WILL YOU
PART OF
MYAPPCAFE
FAMILY.

MyAppCafé has revolutionized the "coffee-to-go market" in many ways, whether in the high quality of the coffee and the products used, in the 24/7 availability or in the possibility of individually putting together your favorite drink via the app. The MyAppCafé franchise system gives you fast market access with less risk. With the help of the innovative MyAppCafé technology of the fully automatic MAC Coffee Bar and an in-house control room management program, your work is made easier and relieved in many areas. The MAC Coffee Bar is delivered turnkey to the jointly selected location.
Fully automatic
fully automatic coffee service,
the finest in seconds
Top coffee freshly prepared to your liking.
$ and economy
Due to the small floor space of 7m² and savings in personnel costs, the MyAppCafé Bar works with high efficiency.
Strong partners
To guarantee the best end product, we work with world-renowned companies.
capacity
The MyAppCafé Bar creates 80 - 120 hot and cold drinks in one hour. the max Capacity with one refill is 600 drinks.
Modular system
Simple replacement of components thanks to the modular design.
sustainability
Fair - Trade organic coffee fresh milk, alternative milk and 100% degradable cups and lids.
COMPARISON OF CAFÉ MODELS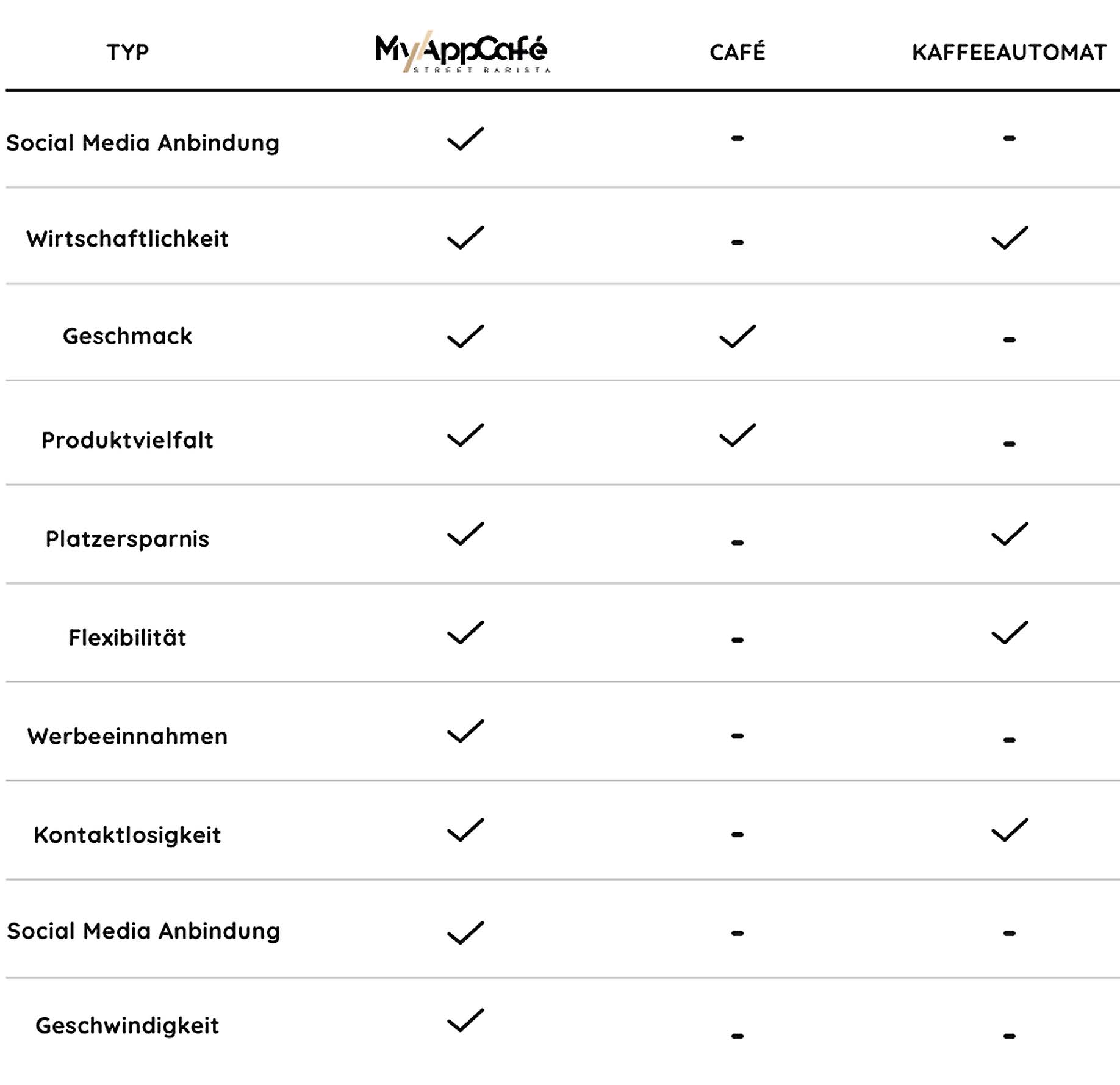 FINANCIAL SAVINGS WITH MYAPPCAFÉ
SALARIES, HOLIDAY BONUSES, OVERTIME...
SOCIAL TAXES, HEALTH INSURANCE...
SMALLER FOOTPRINT, LOWER RENTAL COSTS...
Individual Franchise (National)
Open one or more MyAppCafé bars in the countries already represented by Master Franchise.
Master Franchise (International)
Receive license and exclusive sales rights to the MyAppCafé franchise for an entire country.